You don't have enough leave or want to take a short vacation to forget about office work. You don't have to worry, here are some of the places that we have been to for photography that will fit your timing.
Photosafari has been organising photography trips for more than ten years and we understand your needs. So sit back and relax as we introduce the 10 best places to go for photography that will only take about 2 to 5 nights and they don't burn a hole in your pocket.
Siem Reap, Cambodia
Siem Reap is only about 2 hours' flight time away. There is not much planning involved, just book your air tickets, hotel accommodation, and find a reliable Cambodian Photo Guide to bring you around
What is there to photograph?
You can start with the famous Angkor Wat Complex. The Guides will usually bring you to shoot the sunrise at Angkor Wat. This is getting very touristy. Too many photographers will be crowding the lake in front of the Angkor Wat. I suggest that you can skip this shoot altogether, instead start with the back of the temple before the crowd comes in.
There are a few must shoot temples like Bayon temple, Southern gate of Angkor Thom, Banteay Srei, Preah Khan, and Ta Prohm. If you are interested in temples, you can stay for a few days to visit it one by one.
The other interesting places to visit is the Tonle Sap Lake. You can go there both during the monsoon or dry season. The landscapes will be completely different.
If you like village life, you can visit some of the small villages around Siem Reap and have fun with the kids. Perhaps you may come across a couple of water wells that were donated by Photosafari members. Try also to capture the silhouettes or running shots of the willing kids at sunset.
Food
Food and photography go hand in hand. There are a lot of varieties of food from fine dining to street foods. Most of it can be found at Pub Street.
Best time to go
Siem Reap is good for the whole year round. However, the cooler months are from December to February. A trip to Siem Reap varies from 2 to 5 nights.
2. Mt Bromo
Mt Bromo is famous for its landscapes, desert landscape, horses and milky way photography. Surabaya airport is only 2 hours flight from KLIA. Again you can purchase your air tickets, book your hotels online. You may want to hire a local photography guide who can show you the various places to photograph.
What is there to photograph?
The morning sunrise shoots of the Mt Bromo ( an active volcano) and Tengger Massif is a must. This volcano is part of the Bromo Tengger Semeru National Park. You can explore the different places where the vegetation resembles the grasslands and also the desert environment. Try not to go to the designated places built by the Tourism authorities. Each photography guide will have his own preference locations for sunrise shoots.
After the morning sunrise shoots, you can climb up Mt Bromo for a look at the volcano crater. You can also visit the vegetable farms that are at the top of the caldera
In the evening, if you still have the energy left after a full days photographing, you may shoot the milky way.
3. Pacu Jawi, Padang, Indonesia
Pacu Jawi or Bull Runs are an adrenaline rush for photographers who want to get the best shots. Padang, Indonesia is only an hour's flight time away from KL.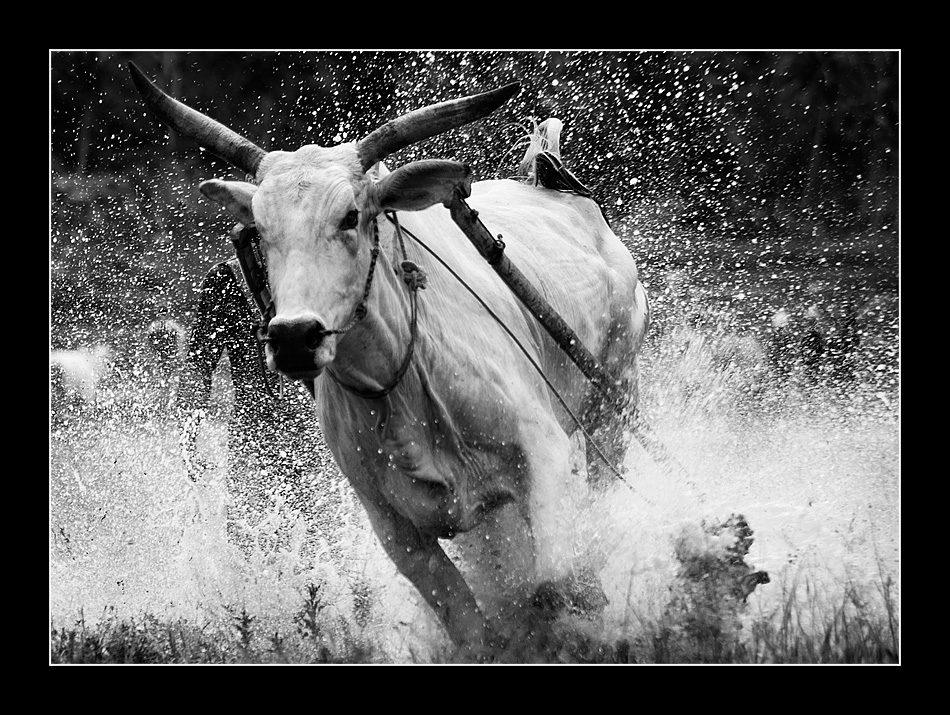 What is there to photograph?
Other than the famous Pacu Jawi, you can visit Bukit Tinggi town, Pagaruyung Palace, and Punchak Lawang. Perhaps you may want to visit the kampongs for cockfighting.
Food
Padang, Indonesia serves one of the best Indonesian foods. The seafood there is also very good.
Best time to go?
The best time to go is when there is a Pacu Jawi or Bull Run. You can check with a local guide on the timing of your visit. You only need to spend 2 days over the weekend for this trip.
4. Barapan Kebo, Sumbawa
Since we are on the subject of bulls, there is traditional buffalo racing at Sumbawa, Indonesia. You need to fly to Lombok, Indonesia and then take a domestic flight from Lombok to Sumbawa.
What is there to shoot?
Barapan Kebo is the main event. However, you can shoot the Child Jockeys. Mata Jitu waterfalls and sunset at Bungin Island.
Food
Sumbawa offers very good seafood.
Best time to go?
You have to find out when the Barapan Kebo race takes place. A local guide is useful. You only need to spend 3 nights over the weekend on this trip.
5. Red River Terrace Rice Fields, Yunnan, China
The mulit-coloured rice terraces are a sight to behold. If you do not want to fight for shooting places on the platforms at Yuanyang, Red River is the place to go. This place is huge, the ring road around these hilly rice terraces is about 60 km. Here too, you can meet the minority tribes of China. If you are lucky, you may be invited to their wedding lunches. You need to fly to Kunming, Yunnan and then take road transport to this place.
What is there to photograph?
The colourful rice terraces when the fields are flooded. The sunrise and sunset scenes are beautiful. You can also photograph the Hani tribes and quaint villages on the hills.
Food
There are no big restaurants in this area. The food served here is average. You can get good food when you reach Kunming. Remember to try the "Crossing Bridge Noodles"
Best time to go.
The best time to go is when the rice terraces are flooded from February to mid-March. You need to spend 3 to 4 nights on this trip
6. Dongchuan Redland, Yunnan, China
Dongchuan in Yunnan Province is a hilly region planted with wheat and potato crops. In May, the potato and wheat crops are about to be harvested, the field turns multi-coloured. It is a sight to behold. You need to take a flight to Kunming, Yunnan and then road transport to Dongchuan.
What is there to photograph?
The multi-coloured potato and golden wheat fields. The people in Dongchuan are friendly.
Food
Food in Dongchuan is average. However, the vegetables are fresh.
Best time to go
The best times to go are in May, December, and January. You need to spend 3 nights there
7. Zhangjiajie, Hunan, China
Since we are on the subject of places to photograph in China, Zhangjiajie is not a place to be missed. The pinnacle mountains was an inspiration for the floating mountains of Hallelujah in the "Avatar" box office. Changsha Airport is about 4 hours flight from Kuala Lumpur. Then you have to take a domestic flight to Zhangjiajie.
What is there to photograph?
The pinnacle mountains in the mist. Mists will form after the rain so choosing a rainy month is crucial. From Zhangjiajie, you can visit a nearby ancient town, Fenghuang.
Food
The food here is typically Chinese cuisine except for the stay at the mountain lodge at Zhangjiajie.
Best time to go
The best time to go is during the raining season. It is usually around June/July. You need to spend at least 4 nights in this place
8. Xiapu, Fujian, China
Xiapu's tourism is targetted to photographers. There are so many vantage points built by the locals to cater to photographers. They charged an entrance fee of about $10-$20 USD.
What is there to photograph?
Xiapu is a fishing village. Lots of fishing village life and seascapes to photograph
Food
The seafood here is very good.
Best time to go
This place is opened the whole year round, the winter and autumn are the cooler months. Try to avoid this place during the typhoon season which is around August to September. You need to spend 5 nights on this trip
9. Hoi An, Vietnam
Hoi An has become an International tourist destination. However, local fishermen still practice old methods of fishing. You can fly from Kuala Lumpur to Danang and then by car to Hoi An which is about an hour away.
What is there to photograph?
The ancient Hoi An town, the morning fishing activities, the Hoi An River at night with people releasing lanterns on the river.
Food
Hoi An is a foodie place, there are so many varieties of food catering to all budgets, not to mention the cheap beers.
Best time to go
Hoi An is opened throughout the year. You need to spend at least 2-3 nights here.
10. Cebu and Malapascua, Philippines
We kept this place last because it is one of our favourites. A Photosafari member owns a Dive Resort at Malapascua, Exotic Island Dive Resort. This resort caters mostly to divers who would like to get up close and personal to thresher sharks. There are also many places in Cebu City to explore
What is there to photograph?
Village life at the back to Malapascua Exotic Island Dive Resort. Life in a stilts settlement called "Paradise Village". The guitar makers of Cebu. You can get to Cebu from Kuala Lumpur and then a free transfer to the dive resort.
Food
The food here is great, some say that it is better than Manila.
Best time to go
This place opens all year round except for typhoon season around August to September. It is good if you have at least 4 days to enjoy this place.
These are our 10 best places to visit for short photography trips. It is a summary of our more than 10 years of experience. Hope that this is informative. Do come and join us in our next photosafari adventures.